Do you really need to manage your endpoints?
Do you really need to manage your endpoints?
Over 50 % of data compromise is coming from your users!
It is becoming one of the most significant threats to small and medium-sized businesses today. More, than half of all enterprise data now lives on endpoints, beyond traditional visibility and security tools centered on a network drive or central server.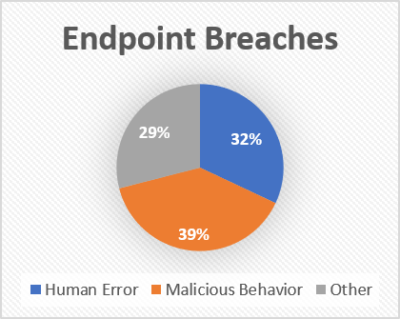 Human error accounts for over 32 % of sensitive data that mistakenly gets sent out. Another 39 % is done with malicious intent by disgruntled employees. Half of the employees who left or lost their jobs in the last 12 months kept confidential corporate data, according to IT BUSINESS EDGE, and 40 % plan to use it in their new jobs. The results show that everyday employees' attitudes and beliefs about intellectual property (IP) theft are at odds with most company policies.
Sensitive data is at the core of all business, and protecting endpoints is quickly becoming a requirement of doing business. Regulatory compliance like HIPAA, PCI, GDPR, CCPA, SOX, NIST, and others can no longer be ignored or deferred as customers/consumers are demanding proof that their data is protected.
Trying to educate employees is good but, not a full proof or reliable solution. However, having data loss prevention (DLP) and endpoint protection (EPP) software that proactively monitors and manages the employee is the only solution. Reacting in real-time to human error or a malicious attack is a necessity.
A robust DLP and EPP solution like Armarius software knows through automation who accessed sensitive data? What they did with it and take the appropriate action all in real-time. The solution also provides productivity reports, alerts, and can be used to deliver reports for regulatory compliance. Enforcing IT policies and managing the four leak points from USB, Print, Web, email and even a screen capture is all part of the essential DLP and EPP software solution.
If you are thinking about a solution to monitor and manage your endpoints, then check out the Armarius Software that has developed an affordable SAAS for Windows-based solutions that are cloud-based or on-premise.
Know now, what you need to know about protecting your endpoints. Armarius Software
Click to learn more https://armariussoftware.com