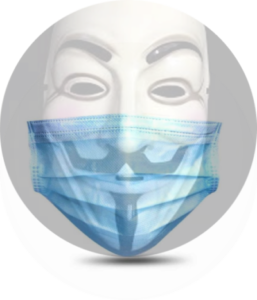 Is my Business IP (Intellectual Property) Secure?
How with all the IT support and cloud security is my company still vulnerable to data breaches?
The answer is actually very simple. It is caused by human error!  Your employees.
What most companies fail to understand is that over 33% of your data breaches are simply created by employee error. The other 39 % are malicious behavior of disgruntled or terminated employees. While cloud security has both pros and cons, it is important to understand the risks and limitations.
Knowing this, cybercriminals create highly effective data scams that are all too convincing. It only takes a simple curious click in an email, on a website, and/or social media to activate a virus and ultimately cause a breach.
Up until now the answer has been "educate your employees" on your IT policies and then hope they follow them. Do you even know your own company IT policy, and is it being actively enforced?  When asked, the majority of employees click the "I have read and agree to button" without even reading it.
Then you have to remember the other 39 % of breaches are malicious employees. What are you doing to prevent them from taking your most sensitive data?  Customer contacts, intellectual property, financial data…etc.
Understand the limitations of cloud security and employ a proactive monitoring and management data loss prevention software solution.
The key being "proactive" as most solutions today depend on IT to react to a situation that leaves your company vulnerable.
As many as 70% of data breaches occur at the end node. While big technology shops can afford the complex tools and dedicated support to secure their end nodes, most smaller companies can't.
It is not a matter of if, but when a data breach will occur within your organization. Companies like yours are the next victims to hackers or even disgruntled employees who can bring your systems down or even worse hold you up for ransom or sell off your sensitive data or IP.
Hackers are continuously probing your network for the weakest link as your data is worth a lot to them.
Everyone thinks hackers always attack from the outside but, in reality, 27 percent of data breaches are related to human errors or disgruntled employees allowing access to your data. Your most loyal employee can be unaware that the sensitive data sent in an email or attachment sent without encryption could be exposing your data.
A disgruntled employee is more than 48 percent likely to steal your sensitive data essential to your business. Right, now they could be getting ready to leave your firm for a competitor and are downloading files from the web or printing your customer list or emailing to themselves your most critical data.  How would you even know?
It's time to ask some questions: 
How important is my sensitive data and IP to my company?
What is the real cost to my business if, they breach my data?
What sensitive information might a disgruntled employee have access to?
Will they sell it overseas or to competitors?
What regulatory violations fines will I have to pay?
What are the legal obligations to notify customers?
What is my cost to rectify the breach?
How much is the ransom?
What is the cost of lost productivity?
What are employees doing with my data / IP?
Who has access to it?
Where is my sensitive data / IP being kept in my network?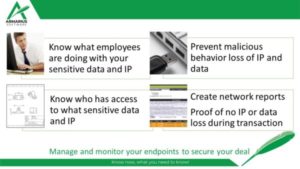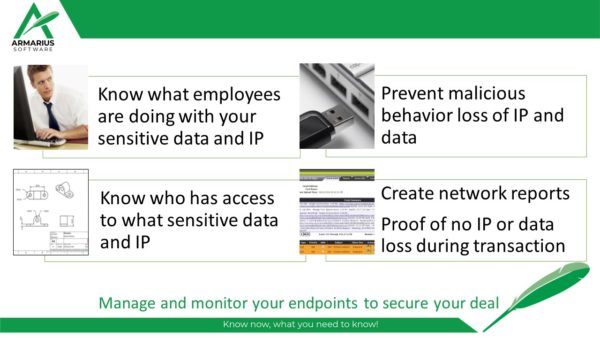 Solution
A robust DLP and EPP solution like Armarius software knows through automation who accessed sensitive data? What they did with it and take the appropriate action all in real-time. The solution also provides productivity reports, alerts, and can be used to deliver reports for regulatory compliance. Enforcing IT policies and managing the four leak points from USB, Print, Web, email and even a screen capture is all part of the essential DLP and EPP software solution.
If you are thinking about a solution to monitor and manage your endpoints, then check out Armarius Software that has developed an affordable SAAS for Windows-based solutions that are cloud-based or on-premise.
Start with an affordable SaaS from Armarius Software that proactively monitors and manages your endpoints. Electronically, and proactively protect your business from phishing attacks and enforce your IT and HR policy. Know where your sensitive data is on the network and who is doing what with your data. Proactively prevent phishing attacks and stop sensitive data before it leaves your network. Get reports and create alerts and know at all times that your endpoints are secure from being breached.
Armarius software provides an affordable SAAS solution for SMB that allows you to proactively monitor and manage what the employees are doing and what access they have to your most sensitive data.
We can electronically enforce IT policies to prevent employee errors and stop malicious behavior. We can prevent them from downloading data to a USB, sending emails with sensitive data, printing out files, or accessing specific websites.
Our solution is ideal for companies that need to meet regulatory data compliance from HIPPA, SEC, GDRP, SOX, IPC, and more.
Companies are also using our software solution to create assessment reports on who accessed data when they accessed it and what they did with it. This will help the company prevent employee errors and stop malicious behavior.
Remember we are all human so proactively do something about it now!
If any of these questions raise concerns, then you should be contacting Armarius Software.
We offer a secure software solution to monitor and manage your end-node user behavior.
You are just one click away from securing your end-node user. www.armariussoftware.com
Armarius Software has a solution to this critical problem. With SMS—Scribe Management Suite—Armarius provides user monitoring software that is an affordable bundle of tools, policies, and services to mitigate the risk of data breaches.
Installed directly at the end node, SMS creates a proactive security environment that prevents data loss before it happens. The software agent, which is less than 40 Mb, locks down the four major leak points on the end node—print, USB, Web, and email—preventing breaches caused by both user error and malicious behavior or theft.
Because it is a fully automated and integrated system, SMS tackles data loss prevention efficiently, from every angle:
Compliance: Rather than relying on employees to comply with complicated written security policies that they may not fully understand, SMS allows companies to enforce their security policies electronically.

Oversight: Network end users pose the biggest security risk to any organization. From the minute users login to the minute they log out, SMS is collecting data to better understand what users are doing. The data that is collected can be employed not just to prevent policy violations but to improve productivity as well.

Sensitive Data. Nobody wants to leave sensitive data unsecured. SMS automatically locates sensitive data files on your network—before it's too late.

Data Collection and Analysis. With the ability to generate over 50 reports, SMS is designed to eliminate many of the tedious and time-consuming data collection and analysis tasks typically associated with DLP.
By automating and integrating all aspects of the DLP process, Armarius Software – SMS user monitoring software provides powerful tools and built-in support to rival the big technology shops—but at a fraction of the cost.
About Armarius Software | Simply Secure Human Intelligence
We are Employee Productivity Monitoring & Security, Anywhere!  Which is an affordable software-as-a-service hosted on your server or cloud platform. Our scalable industry-agnostic software solution is ideally suited for small to middle-market clients that have anywhere from 5 to 100,000 users. Our solution has proven its robustness in financial banking for over ten years.  Any industry from manufacturing, distribution, services, retail, and more can use our software.  Our software is used in highly regulated industries that required data compliance to meet SEC, SOX, HIPAA, NIST, GDPR, PCI, ISO, PII, CCPA, and others.  We proactively monitor and manage user behavior, so your sensitive data and I.P. is never at risk.
Start right now to enforce in realtime your user's behavior with IT & HR policies today by "Know now, what you need to know!"
Visit our website www.armariussoftware.com  for your 20-minute demo or qualify for a free 30-day trial assessment of your users' behavior.  Armarius Software 1-331-305-3700 or sales@armariussoftware.com
Remote work or hybrid has become the norm, and ensuring employee productivity and data loss prevention is the new challenge. There are many solutions for employee monitoring software with features like time tracking, screen monitoring, and activity logging, and businesses can now gain a comprehensive understanding of how their remote